LA's Olympic History
SAH/SCC Annual Members' Celebration
Saturday, November 05, 2011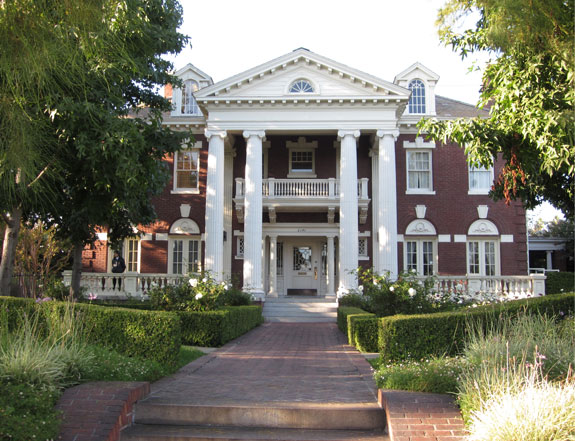 Join SAH/SCC as we explore a seminal part of Los Angeles history, the Olympics, at the LA84 Foundation headquarters and library. The Foundation, whose mission is to serve youth through sport and to increase knowledge of sport and its impact on people's lives, is headquartered in the Eugene W. Britt Residence (Alfred F. Rosenheim, FAIA, 1910) in West Adams.

In addition to experiencing the impressive three-story, red-brick Colonial Revival, attendees will also view the Paul Ziffren Sports Resource Center (Heidi Hefferlin Architect, 1988) which houses the largest sports research collection in North America.

Wayne Wilson, the Foundation's Vice President/Education Services, will discuss highlights of the site and the collection, which includes ephemera associated with the 1932 and 1984 Olympic Games of Los Angeles.

The Britt Residence was originally built for the pioneer Southern California attorney, who came to California from Missouri in 1887 and took up residency in Los Angeles in 1900. In 1910, he commissioned architect Rosenheim, a fellow Missourian, to design the elegant residence for his family.

Heidi Hefferlin, AIA, the architect of the library addition, worked previously for Skidmore, Owings & Merrill and Richard Meier & Partners Architects, and is now partner in the Tennessee firm of Hefferlin + Kronenberg Architects.

The annual SAH/SCC Members' Celebration is free to all SAH/SCC members as a "thank you" for your generous support over the past year. This year, there is something for everyone: period revival, contemporary architecture, and an opportunity to learn more about how the Olympic Games have shaped our city.

In addition to the program, members will be treated to light refreshments and the opportunity to engage Board Members and other members in our mutual love of Los Angeles. We encourage you to bring friends who would enjoy a special afternoon of architecture, cultural history, sport, and fun. Their entry fee can be applied toward full SAH/SCC membership that day.

CLICK BELOW TO ENLARGE THESE IMAGES