Ojai: A Postcard History
SAH/SCC Lecture & Book Signing
Saturday, July 16, 2011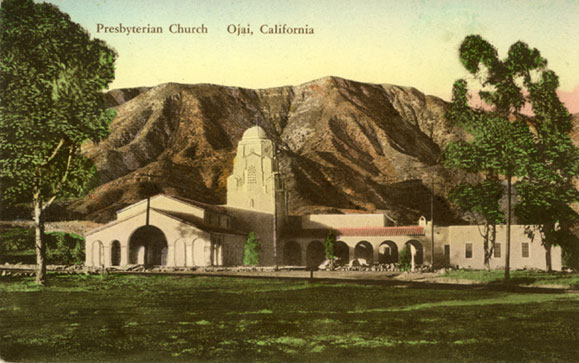 Join SAH/SCC on Saturday, July 16, 2011, at 1PM at the Santa Monica Public Library (Moore Ruble Yudell, 2006) for a lecture and slide presentation on the architecture of Ojai. Craig Walker, former SAH/SCC Board Member and co-author of the book Ojai: A Postcard History (Arcadia, 2010), will share images and insights about the architecture of Ojai, past and present. (Note: This event was originally scheduled for this past February, but was postponed until now.)

The presentation will draw heavily from Ojai's legacy of Mission Revival architecture and feature the work of such architects as Mead and Requa, Wallace Neff, Carlton Winslow, Arthur B. Benton, Robert Stacy-Judd, Arthur C. Martin, Roy Wilson, George Washington Smith, Julia Morgan, and J. Cleveland Cady. Emphasis will be given to rarely seen or lost commercial and institutional buildings documented through postcards.

The book project was organized by the Ojai Valley Museum, with many of the postcards coming from its own extensive collection. Collectors living in the Ojai Valley also donated to the project.

Craig Walker is a life-long resident of Ojai and the son of Case Study House architect Rodney Walker. His lecture is sure to offer an insider's view of this very special California community. The book, Ojai: A Postcard History, will be available at the event for sale and signing by the author.

CLICK BELOW TO ENLARGE THESE IMAGES