LAPD Headquarters: Consensus Building
SAH/SCC Members' Celebration: Downtown LA
Saturday, November 13, 2010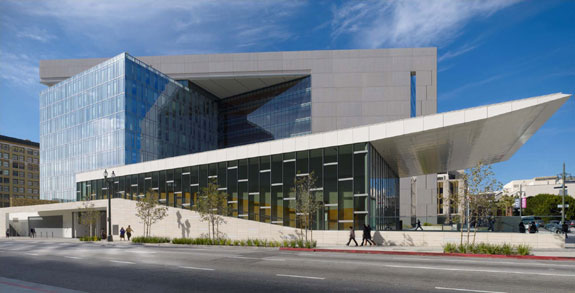 SAH/SCC celebrates its members with an unprecedented opportunity to visit the new Los Angeles Police Department Administration Building and hear its story.

This event will include a lecture and slide presentation from AECOM design principal Jose Palacios, the designer who partnered with project architect Paul Danna. According to LA Times architecture critic Christopher Hawthorne, "The(y) have adroitly turned the LAPD's anxieties about security-which are also, frankly, anxieties about the contemporary city-into a force for effective urbanism. Space that might have languished as a no-man's-land of concrete and protective bollards has instead become open and usable."

The new 500,000-square-foot, 10-story police center is located directly across from the iconic City Hall (John Parkinson, John C. Austin, and Albert C. Martin, Sr., 1928), and situated between the famed Times-Mirror Building (Gordon B. Kaufmann, 1934) and the CalTrans District 7 Headquarters (Morphosis Architects, 2004). The historic Saint Vibiana's Cathedral (Ezra F. Kysor and W.J. Mathews, 1876; John C. Austin, 1922) is a mere block away.

A LEED (Leadership in Energy and Environmental Design) certified Gold project for sustainability, the new headquarters was conceived and executed through a highly collaborative process with over 30 public workshops involving a wide variety of community and stakeholder groups. Proper consideration of key issues including building massing, traffic, pedestrian circulation, amenities and open space enabled the designers to provide generous public spaces, civic plazas, and lush gardens that promote a sense of openness and community between the LAPD and surrounding neighborhood.
CLICK BELOW TO ENLARGE THESE IMAGES