Maya Lin: A Strong Clear Vision
SAH/SCC Film & Talk
Saturday, February 27, 2010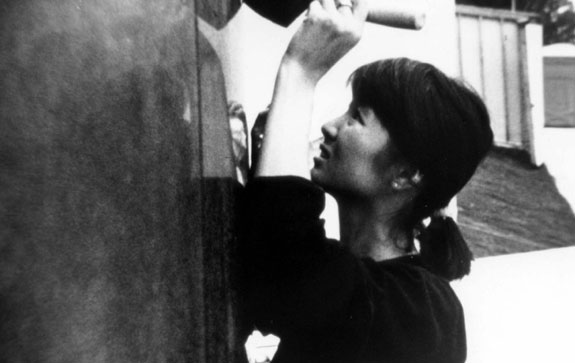 SAH/SCC is excited to share one of the best art and architecture documentaries of all time with our members and their guests. At 11:30AM on Saturday, February 27th, we join the Glendale Public Library in co-sponsoring a free screening of Maya Lin: A Strong Clear Vision. The screening takes place at Glendale Central Library (Welton Becket & Associates, 1969), 222 E. Harvard St.; reservations are not required.

Winner of the Academy Award for Best Feature Documentary in 1995, the film was directed by Freida Lee Mock, who will join us for the presentation and share her insights into Lin's life and career. A Boston Globe critic called the film "the finest I've ever seen on a contemporary artist" and the late film critic Gene Siskel said "it brought tears to my eyes. I can't wait to show it to my daughters. Maya Lin will be a role model for them. She is a great artist and this film captures her talent and her courage."

Lin's Vietnam Veterans Memorial on the Mall in Washington, DC, is one of the most profound commemorative artworks ever made. Designed while she was still a senior architecture major at Yale University, the monument not only firmly established Lin as one of the great designers of our time, but also forever changed contemporary efforts to memorialize complex and often painful aspects of history. The film focuses on Lin's steadfast resolve to see the monument built as she designed it, along with other early projects that made her reputation and established her preeminent skill in melding sculpture, architecture, and landscape design into works and sites of great power and, often, controversy.

Director Freida Lee Mock will introduce the film and take questions from the audience. In addition to winning one Oscar, Mock has been nominated for five others, and has also won two Emmys and received three other nominations for her television work. Often focusing on figures from the arts and politics, Mock's films have included portraits of several other strong women, including Rose Kennedy and Lillian Gish.
CLICK BELOW TO ENLARGE THESE IMAGES