Annual Members Celebration
Annenberg Community Beach House 2-5PM
Saturday, November 07, 2009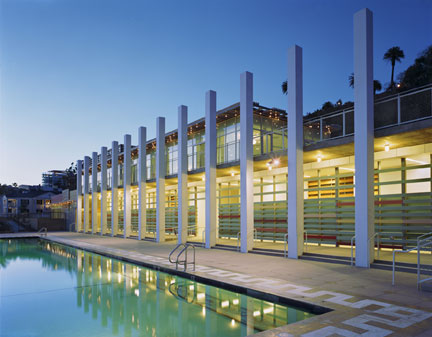 Rated four stars (out of five) by Architectural Record's readers, the Annenberg Community Beach House on Santa Monica State Beach is the spot for this year's SAH/SCC Members' Celebration. As always, the Members' Celebration is free to members in good standing, and includes light refreshment, a chance to mingle with fellow members, and a behind-the-scenes look at some terrific architecture.

In addition to guided tours of the property-including the historic guest house designed by Julia Morgan-there will be a slide show presentation on the five-year, $30-million rehabilitation project by the project manager, SAH/SCC Executive Board Member John Berley, an associate at Frederick Fisher and Partners Architects (FFPA), the principal designer of the project.

The Annenberg Community Beach House-recently granted LEED Gold certification-is a multi-use public beach recreation facility that occupies the site of the historic Marion Davies Estate designed by Morgan and built in 1928 by William Randolph Hearst. The original five-acre estate on Pacific Coast Highway included a 110-room mansion, seven-bedroom guest house, gardens, pool, and tennis courts. Only the Morgan-designed guest house and pool, both city landmarks, remain.

FFPA conceived the project as a series of indoor/outdoor recreation and event spaces, both formal and informal, woven through the historic and new structures of the site. The primary images for the project were formulated in response to three compelling aspects of the Beach House site: its natural setting, its social history, and the architectural remains of its heyday.

CLICK BELOW TO ENLARGE THESE IMAGES