Masters of Modernism: Neutra and Wright
SAH/SCC Tour, Bakersfield
Saturday, October 24, 2009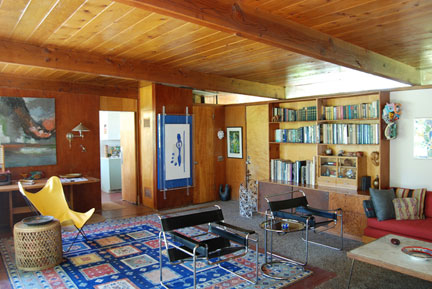 For those who are fans of our Modern Patrons program, the next stop will be especially fulfilling. Neutra's Leddy Residence (1958) will feature a tour of the house and an extended dialogue with the home's original owner, a former member of the Martha Graham Dance Company. The Leddy "starter home" in the post-and-beam style shares acreage with this Bakersfield pioneer family's original, late-1890s gothic farmhouse. Both homes will be open for viewing.Bakersfield is known for its Basque immigrants and traditions. After an authentic Basque lunch at the renowned Wool Growers restaurant, we will make an afternoon visit to Wright's rarely seen George and Millie Ablin Residence (1958). One of the last houses designed by Wright prior to his passing, the home was completed by Taliesin Associated Architects. This is the first time the house has been open to a group visit in approximately 20 years. In completely original condition, the Ablin Residence is a graciously executed example of Wright's use of the hexagon and triangle. The house also features textured concrete block.Don't miss the opportunity to visit these three inspirational homes. Coach seating is limited to 20 people, so sign up now to avoid disappointment!

CLICK BELOW TO ENLARGE THESE IMAGES