Save the Date: Cliff May's Modern Ranch Houses
Tour and Book Signing
Saturday, September 12, 2009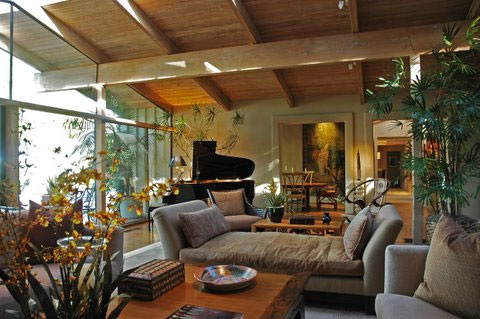 All SAH/SCC members are invited to the upcoming Institute of Classical Architecture (ICA) event celebrating the work of Cliff May and the publication of the monograph Cliff May and the Modern Ranch House (Rizzoli, 2008), by Daniel P. Gregory (see SAH/SCC News, May 2008, for Bookmarks review). On Saturday, September 12th, 4-7PM, watch the sunset in one of May's classic California Ranch-style homes on a stunning hillside lot in Encino. Gregory, former Senior Home Editor of Sunset Magazine, will discuss the career and life of this influential figure. Copies of the book will be available and signed by the author. In addition to a private tour of the home, the group will view home movies from architect Marc Appleton of his childhood growing up in a Cliff May home.
CLICK BELOW TO ENLARGE THESE IMAGES