Getting to Know Architect Paul Edward Tay
SAH/SCC Tour
Saturday, September 20, 2008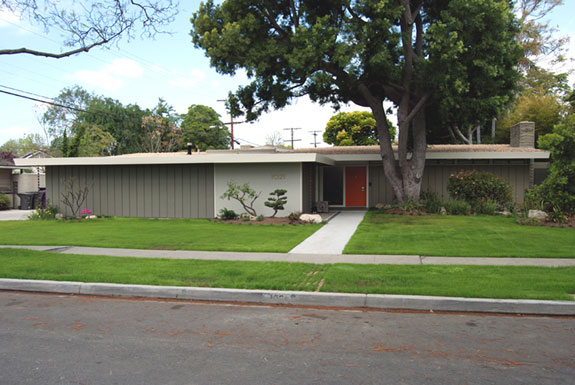 There are still spaces open to join SAH/SCC Executive Board member Adam Wheeler for a tour that will uncover the work of architect Paul Edward Tay, an unknown yet prolific figure in the annals of modern architecture. On Saturday, September 20th, 10:30AM-3PM, in Long Beach, tour-goers will visit homes from the 1950s through 1970s that expose an individual language and pure identity that showcase the talented hand of Tay. The event is $35 for SAH/SCC members; $45 for non-members. See Order Form on back page.

Born in Pomona in 1924, Paul Edward Tay graduated from USC in 1950 and counts Harwell Hamilton Harris and Frank Lloyd Wright as early inspirations. He opened his practice in Long Beach soon after graduation and conducted a healthy career designing many residential projects in the Southern California area. The Tay tour will touch upon the evolution of this architect, revealing his work as a blend of a modernist aesthetic within a ranch-style vocabulary. Throughout his 25 years in Long Beach, he produced more than 30 residential projects that both exude the "essence" of ranch modernism as well as a particular individuality.

The self-driven tour begins with The Braly Residence (1972) located on the Peninsula, Long Beach, which was the last house that Tay designed in Southern California before moving his practice north to Mendocino. This two-story residence incorporates the "Piano Nobile" idea, whereby the primary living spaces are on the second floor to capture the views, air, and light of the waterfront. Next stop is the Crail Residence (1957), a single-story 3,700-square-foot compound-like courtyard house with cantilevered eaves and vaulted ceilings located on a 10,000-square-foot lot in the Park Estates area.

The Sipprelle residence (1961) is located in Signal Hill and is the most sculptural of the homes, as it is built on a sloped site with sweeping vistas of downtown Long Beach and the ports beyond. The tour ends with two similar, yet striking, homes located in the neighborhood known as Bixby Knolls. While these residencesDrake Residence (1951) and Penn Residence (1954)are both located on typical flat sites with unassuming street presences, each house has been restored and remodeled in its own way to accentuate open floor plans and outdoor patios.

CLICK BELOW TO ENLARGE THESE IMAGES