Contemporary Patrons: Fisher in Santa Ynez
SAH/SCC Talk and Tour
Saturday, August 09, 2008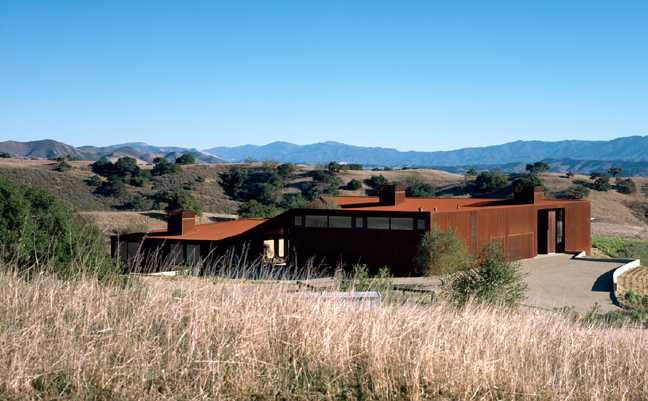 Contemporary Patrons visits a 100-foot-square home by Frederick Fisher & Partners, Architects, in Santa Ynez. Clad entirely in corrugated Cor-ten steel, the home is organized around a central courtyard with outdoor rooms to take advantage of the climate. Sliding glass panels blur the line between inside and outside and offer views of the serene landscape.
Join SAH/SCC for the next installment of Contemporary Patrons to learn firsthand about the currents, concepts, and challenges of building a house today. On Saturday, August 9th, 11AM-1PM, you will have the opportunity to visit a recently completed custom house with extensive views of the Santa Ynez Valley and surrounding mountains.
The 100-foot by 100-foot home, designed by Frederick Fisher & Partners, Architects, is organized around a central courtyard that divides the building into three distinct "zones" with areas for living, sleeping, and working. To take advantage of the warm climate during the summer months, three outdoor rooms extend the living space. This blurring of inside and outside is achieved with the use of large sliding glass panels. The interior courtyard protects the residents from harsh wind and sun while providing an alternate view of the landscape, which is contemplative, serene, and quiet.
The contained exterior world is juxtaposed to the outer landscape of natural grasses, shrubs, and trees. The residence is clad entirely in corrugated Cor-ten steel that has taken on a rich brown color as it oxidizes, complementing its earthy surroundings. Perforated Cor-ten steel is used for sun-shading along glass panels and covered areas, adding a play of light across the home's surfaces. Large sliding and swinging steel gates enclose the home at night and while the owners travel.
The owners, an artist and a lawyer, requested a home that would include an open living area, master bedroom suite, two guest bedrooms, office, artist studio, and lap pool. The result was a 7,000-square-foot single-family residence conceived within a 25-square-foot grid pattern.
Our afternoon in Santa Ynez will be an opportunity to experience the house and learn from the perspective of the owners who commissioned the architect.
CLICK BELOW TO ENLARGE THESE IMAGES