Lutah Maria Riggs
SAHSCC Tour
Saturday, October 09, 2004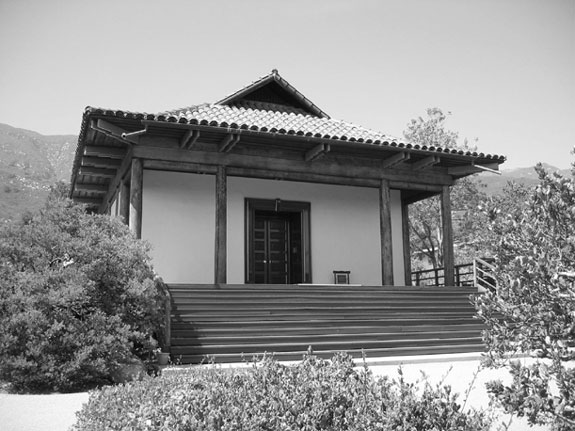 Join the SAH/SCC in Santa Barbara on Saturday, October 9th, for a rare opportunity to study the work of Lutah Maria Riggs (1896-1984).

Organized by SAH/SCC Executive Board Member Sian Winship, the day begins with an exclusive tour of the University Art Museum exhibition Picturing Tradition: Lutah Maria Riggs Encounters Mexican Architecture, led by architecture and design curator Kurt Helfrich.

In December 1922 and January 1923, Riggs and her employer, architect George Washington Smith (1876-1930), visited some of Mexico's most picturesque towns. Smith commissioned Riggs to sketch and photograph the local architecture and architectural details as source material for future designs in Santa Barbara and a book he hoped to publish with Riggs on Mexican architecture. The exhibition features historic drawings and Riggs black-and-white photographs. Contemporary photographs by noted architect, artist, and SAH/SCC Life Member Stephen Harby will also be featured.

Following our visit to the exhibit, the group will be allowed private access to the Universitys architectural archives to study plans, drawings, and photos for the Riggs-designed estates the group will visit that afternoon in Montecito.

After an alfresco luncheon at the beautiful and historic Four Seasons Biltmore Hotel, tour-goers will visit three Montecito properties designed by Riggs, including Casa del Herrero (George Washington Smith and Lutah Maria Riggs, 1923). Originally built for the family of George Fox Steedman, an industrialist from St. Louis, the house remains in its original condition, complete with period furnishings. The gardens were designed by noted landscape architect, Lockwood De Forest.

This event begins at 9:45AM at the University Art Museum at UCSB and ends back there at 5:30PM. Tour-goers are responsible for providing their own transportation to and from Santa Barbara. However, a chartered shuttle bus will provide transportation between the museum, lunch, and the residences during the event.

Space on this event is limited to 40 participants. Tour-goers must ride the shuttles. No participants will be permitted to drive themselves. Price includes all-day parking in the UCSB lot, museum admission, transportation, and lunch at the Biltmore.

CLICK BELOW TO ENLARGE THESE IMAGES