Modernism for the Masses: Joseph Eichler
SAHSCC Tour
Saturday, September 15, 2001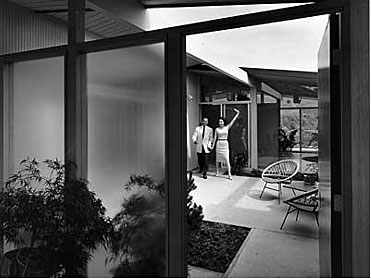 Please join the SAH/SCC for a rare opportunity to learn about and experience visionary developer Joseph Eichlers residential communities for modern living. "Modernism for the Masses" will be held on Saturday, September 15th, in the city of Orange. The day will begin at 10AM with a lecture by author and noted Eichler expert Paul Adamson at Chapman College. Tour-goers will then have the opportunity to visit the interiors of multiple homes in three nearby Eichler tracts that feature designs by award-winning architects Jones and Emmons, Anshen and Allen, and Claude Oakland and Associates. The tour will be a self-driving event according to provided maps and directions.

Eichler Homes are the rare example of developer-created housing that offered the opportunity to experience a modern way of life previously inaccessible to the average homebuyer. Contrary to the popular wisdom of the time, Eichler sought the guidance of progressive designers and together they created a prototypical design methodology that was exceptional for being technologically inventive, climatically attuned, and socially responsive. Moreover, Eichler Homes were marketed not merely as residences, but as a New Way of Life.

In recent years, Eichler Homes have been rediscovered by a group of enthusiasts for whom the Modernist ideas of mobility, self-expression, and empathy with nature are as appropriate today as during the late 50s and 60s when the homes were first built. Interestingly, todays Eichler owners are a new generation of the diverse and progressive individuals Eichler originally marketed to. Current owners speak enthusiastically of the natural sense of community that pervades the developments-often an elusive concept in todays world of gated neighborhoods and new urbanism.

Eichler Homes are known for open plans centered around generous atriums, their expansive use of glass, the clear delineation between public and private zones, and the integration of the automobile. The Eichler construction method-a post-and beam system atypical for residential building at the time-economized on materials and proved efficient for the builders.

To provide a context for the home tour, Modernism for the Masses will begin at Chapman College with a lecture by Paul Adamson. Mr. Adamson has been studying the Eichler communities in Northern California for years and will soon publish a book entitled "Building the California Dream: The Eichler Homes."

Featured residences on the tour will include the finest examples of homes from all three of the original architectural firms. The tour will give participants an opportunity to compare the evolution of plans by A. Quincy Jones, Frederick Emmons, Robert Anshen, Steven Allen, and Claude Oakland.

Eichler Homes have achieved national honors, such as the American Institute of Architects Sunset magazine awards of merit for outstanding design in 1956, 1957, and 1959, as well as the House & Home magazine award of merit in 1958, for their outstanding contribution to quality housing.

Tickets for this all-day event are $35 for SAH/SCC members and $45 for non-members. Capacity is limited, and ticket orders will be filled on a first-come, first-served basis. The day will start with a lecture, with homes open for touring afterward. Tour participants will be responsible for driving themselves between open locations. Lunch is on your own, with many options in the surrounding area. Carpooling is encouraged. Mail in the application on page 8 to reserve your tickets.
CLICK BELOW TO ENLARGE THESE IMAGES